This Halloween spend a little time learning from the Zombies about your website!
Today I thought I would have a little fun and get into the Halloween spirit by sharing with you 3 things Zombies can teach you about your website.
1. Zombies are persistent!
Think about it, zombies are always laser focused on what they desire most… BRAINS!  And while brains are not what you are after, there is no reason why you shouldn't be laser focused on what it is you want on the pages of your website. New clients and consistent sales!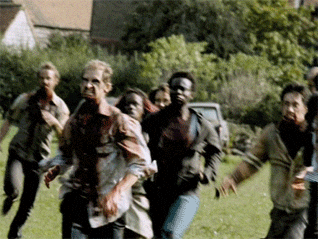 How can you do this on your website? Easy! Make sure that every page has a single purpose and a clear call to action that gets them in touch with you.  For example…
About page:
Purpose: share a little bit about you that highlights what you can do for your dream customers. 
Your potential clients aren't all that interested in your stack of degrees and certifications. What they want to know is how you can help them. So share the part of your background and experience that makes you uniquely qualified to help them.
Potential Calls to action: Connect On social media / Schedule a consult
If you are great at connecting with your social media following your About page is a great opportunity to drive new followers there. And if social media isn't your thing, there is nothing wrong with inviting them to schedule a consultation.
Services page:
Purpose: outline your service offerings in a clear and compelling way
This is not the place to go into lengthy detail about what you offer. This is the place to give the highlights that has your website visitors saying, "OMG! I need this!" So get to the point of what you have to offer in a way that has your visitors reaching out to learn more.
Potential Calls to Action:

Fill out a discovery call questionnaire
This is a great place to gather a little more detail about what they are looking for, that is followed up with a solid nurturing sequence of communications.

Schedule a consultation
 Again, nothing wrong with nudging them to schedule a consultation.
Interactive Quiz: 
A quiz is a fabulous way to guide potential clients through dreaming of how you can help them while having a little fun and learning more about what you do.
Contact page:
Purpose: share the best way you can be reached
You don't have to be available in every way. Share the best way to reach you, which of course is the way that has you following up quickly.
Potential Calls to Action:

Fill out a discovery call questionnaire 
Again this is a great place to learn a little more detail about what they need or…
Schedule a consultation
simply get on your calendar for a chat.

2. Zombies don't care what others think!
Have you ever seen a zombie checking themself out in the mirror wondering if the look as cool as the other zombies? ? Or worried about what the other zombies think of how they attacked their last victim? Do you see Zombies comparing themselves to the competition? Of course not, because zombies don't care.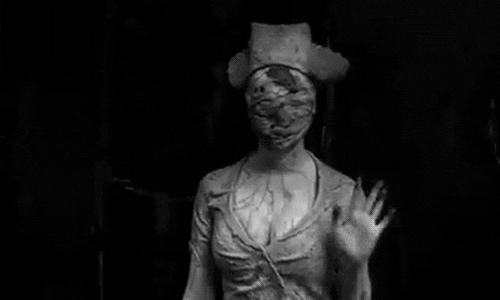 They aren't worried about being judged, and they definitely aren't caught up in comparing themselves to the other zombies. I don't even think they know what the other zombies are doing, or how they are doing it. They are laser focused on their goal… eat as many brains as possible.
The goal of your website is to gain new customers, and the best way to do that is to be your unique amazing self. So stop worrying about what others might say about how you are showing up online. And stop comparing yourself to your competitors. Just be yourself and focus in on your goals and the steps you need to take to get there.
3. Zombies are vulnerable to destruction.
Guess what my friend. If you do not take care of your website, it too is vulnerable to destruction. This is why website security is so important, and something you should never ignore.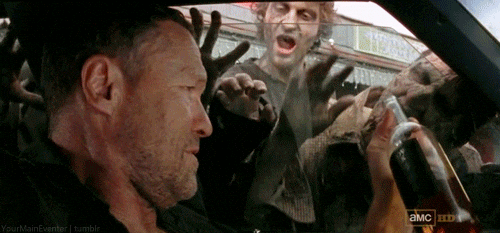 Would you ignore a zombie chasing you down? Of course not, because you want to live. Your website wants to live too, and taking the time to make sure it does live is going to serve you well far into the future.
And because there is always time to focus in on security here are seven security practices everyone should take care of…
Always use Strong Passwords.
Install an SSL Certificate.
Use a Secure Host.
Install a Web Application Firewall.
Regularly Scan Your Site for Malware.
Backup Your Site Regularly.
Setup Login Lockdown Feature.
________________________________
Shout out to GIPHY for the awesome zombie gif in this post!